Today may be Halloween, but the real fun was had Friday night as GRIP celebrated its annual Trunk or Treat tradition, with all the GRIP vehicles decked out in their ghouliest garb, trunks transformed into terrifying tarantulas, and, well, a pretty benign game of beanbag toss for candy.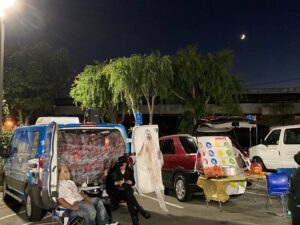 Neighbors, residents, and friends enjoyed musical chairs, trick or treating from trunks, and of course, a parking lot dance party with a surprisingly booming sound system on top of the GRIP refrigerated food truck from 7 pm to 9 pm.The idea is to have a safe and welcoming place for all, without all the chaos of the actual Halloween night. Everyone is welcome to spend the 31st doing whatever their tradition, or maybe just out looking for the Great Pumpkin, but the Friday before is a great family fun night at GRIP.
As always, GRIP staff went above and beyond to really create a fun — and at times a bit spooky — scene for all.
Next holiday? Thanksgiving! Be sure to plan now if you're coming to volunteer.